Beaches
The Isle of Wight is one of the most southerly parts of the UK and with its own microclimate is much warmer than much of the UK averaging 18C in July and August, with a sunshine record to rival Northern Spain - with plenty of beaches suitable for swimming and other pastimes
For other seaside activities you might also want to look at our pages for "Action & Adventure" and "Outdoor Fun".
Brook Bay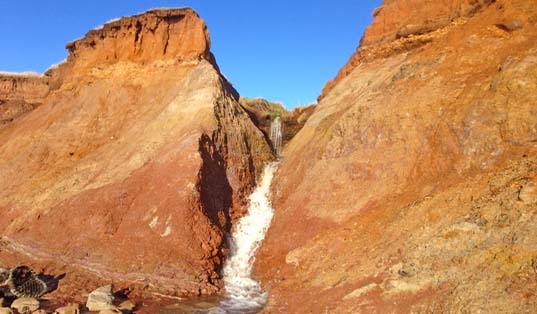 A short scenic drive westward along the Military Road to Brook cliff top car park gives you easy beach access via a sloping track. Turning right as you reach the beach you can walk towards Hanover Point which separates Brook Bay from Compton Bay. The beach is a mix of shingle and sand with rocky ledges as the tide receeds.
Towards Hanover Point you pass Churchill Chine and can usually start to find dinosaur fossil casts which have eroded out from the cliffs. At Hanover Point there are plenty of pools in the rocky shelf revealed when the tide is out and at very low tide dinosaur footprints can be seen on a rocky shelf.
For more on Fossil hunting see our "Dinosaur Trail" page and read more about "Dinosaur Island".
Compton Bay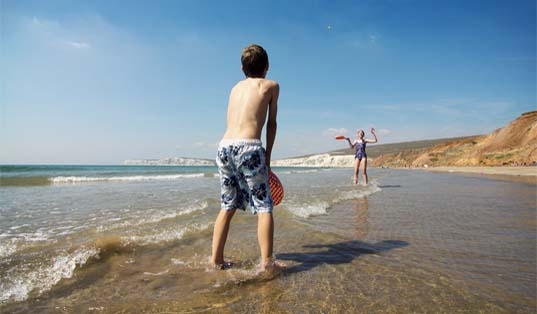 Just a further half a mile along Military Road past Brook, Compton cliff top car parks gives you beach access via steep wooden steps. The huge stretches of sandy beaches are popular for surfing, wind surfing and kite surfing.
Image Courtesy of Visit Isle of Wight.
Steephill Cove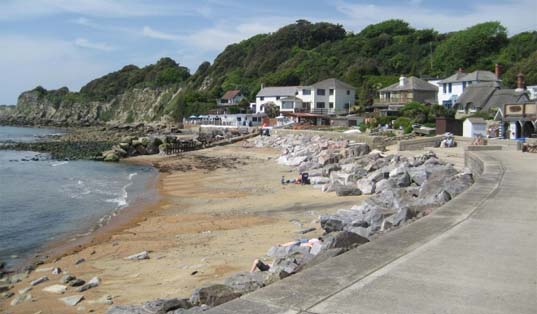 Arguably the prettiest beach on the Island, situated just south of the Victorian seaside town of Ventnor, Steephill Cove is a traditional, unspoilt fishing cove with a safe beach with rockpools on one side and sand/shingle on the other, nestled between rocky cliffs and smugglers' coves.
The beach is great for children with a sandy side for making sandcastles and swimming and a rocky side for rockpooling. There are also a couple of cafes and beach shacks for ice creams, beach equipment and fresh caught seafood and snacks. More>>>
Ventnor Beach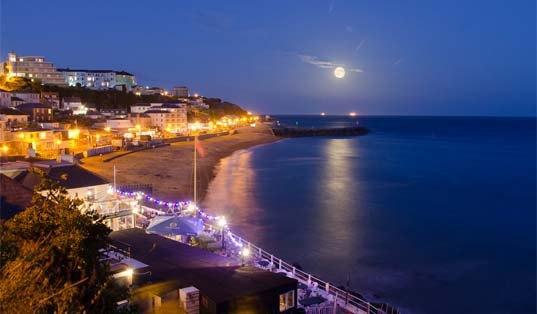 Crescent-shaped sandy beach, with some shingle. Popular with experienced swimmers, but there is a strong tide. Pretty seafront lined with pubs, cafes, restaurants and shops. There is also a small port from which you can go on fishing trips an a childrens paddling pool shaped like the Isle of Wight.
Image Courtesy of Visit Isle of Wight.
Sandown Beach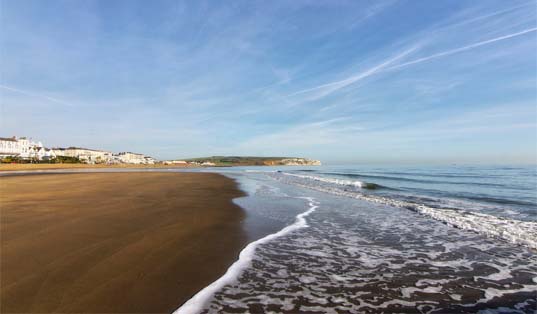 The Island's biggest seaside resort. Enormous sandy beach stretching all the way to Shanklin. The town's shops, cafes, pubs and restaurants are very near the beach itself. Easy level walking along the promenades. Amusement arcades and a traditional pier add to the fun.
Image Courtesy of Visit Isle of Wight.
Yaverland Beach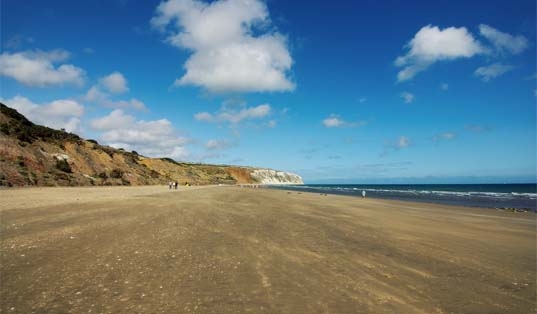 Continuing from Sandown's golden sands, Yaverland beach runs eastwards from the sailing club to the foot of Culver cliffs beyond.
Yaverland is also one of the Island's top fossil hunting beach and Dinosaur Isle just north of the beach road is home to several of the fossils found nearby.
Image Courtesy of Visit Isle of Wight.
Shanklin Seafront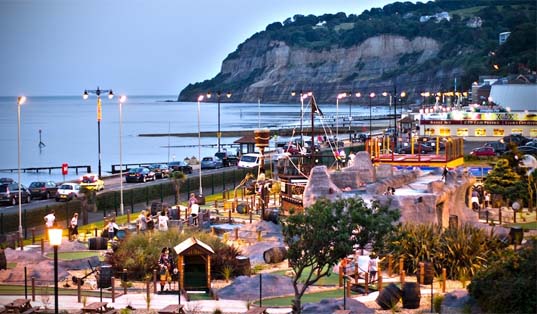 Shanklin is one of the Isle of Wights' most popular seaside resorts on the south coast. The golden sandy beach, traditional Old Village and Shanklin Chine make it one of the busiest too.
Shanklin seafront is packed full of amusements, activities, golf courses and so much more! More>>>
Alum Bay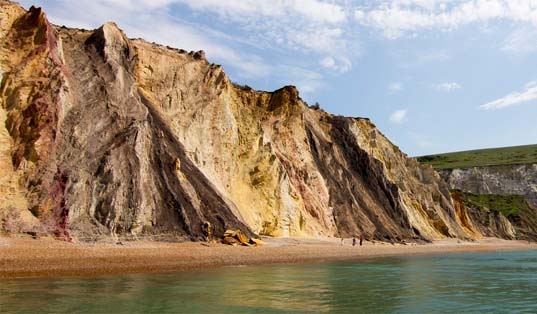 A sandy beach at the foot of the cliffs famous for their coloured sands. Accessible via the chairlift at Needles Park, or a very long set of steps! Arguably the Island's most stunning bay. Great view of the Needles. Strong currents here though. Pontoon with trips around the bay and to the Needles.
Image Courtesy of Visit Isle of Wight.
Colwell Bay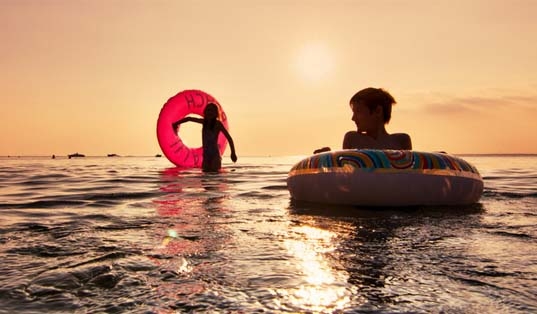 Popular with families and locals, with waterfront cafes, beach huts, water sports and a small amusement arcade. Beach is shingle and sand. Its gently shelving slope and calm waters make it popular.
Image Courtesy of Visit Isle of Wight.
Ryde, Appley and Puckpool Beach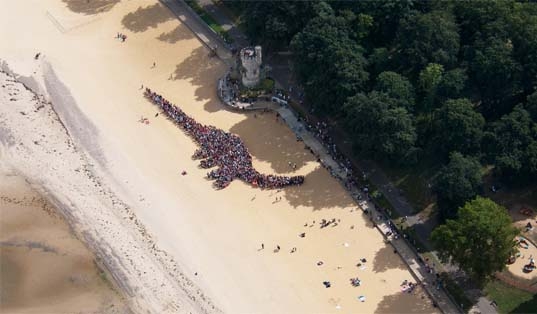 Together a fantastic six-mile beach. Situated from the town itself running eastward, there's a large esplanade with bowling alleys, a pitch 'n' putt golf course and a canoeing lake. The tide goes out a very long way but beware as it can come in very quickly.
In 2013 the "largest human dinosaur" was formed on this beach. Image Courtesy of Visit Isle of Wight.
Bembridge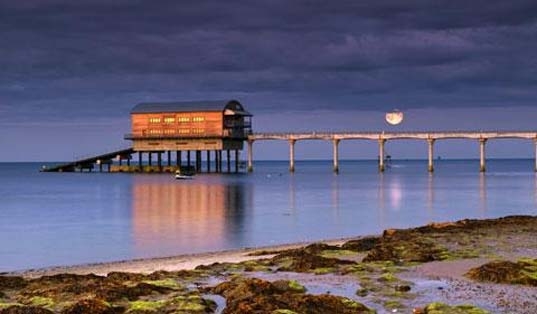 With great views of the harbour and to the striking Life Boat Station there is a mix of rockpools, stones, pebbles and sand making this an ideal place for crabbing, shrimping and padling.
There are great views across the Solent and you can often see the large vessels coming in and out on there way to and from Southampton and Portsmouth.
Image Courtesy of Visit Isle of Wight.