Dinosaur Trail
Dinosaurs seem to capture the imagination of both children and adults alike and the Isle of Wight is an ideal place for dinosaur activities, whether you base your entire holiday around it or just spend an afternoon fossil hunting.
Our dinosaur trail page is full of useful information and things to do with a dinosaur theme, and makes for some wonderful times out driving or even cycling.
At the eastern end of the trail at Yaverland (PO36 8QB) is the Dinosaur Isle Museum (PO36 8QA). Dinosaur Isle is Britain's first purpose built dinosaur museum and visitor attraction; based in Sandown on the Isle of Wight and regularly features in the news due to the latest finds on the Island.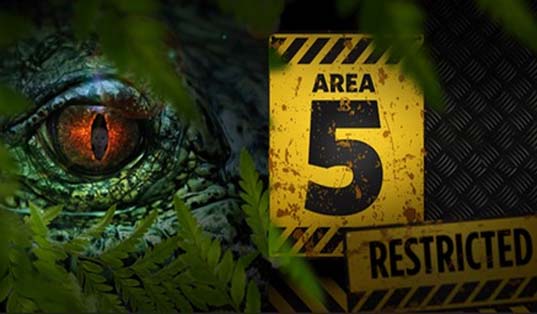 At Blackgang Chine Land of Imagination (PO38 2HN), look out for their huge dinosaur enclosure Restricted Area 5. Something is stirring and it's not for the faint hearted! The journey through 'Restricted Area 5' will bring you up close and personal with dinosaurs of all types including an Argentinosaurus, bigger than a double decker bus and the biggest animatronic T-Rex in the country.
Of course Blackgang Chine is a day out in itself and there is plenty to see there, not just the dinosaurs.
Pretty much right in the middle of the trail you pass Chale Bay Farm itself with Ellie our pet velociraptor in the front garden. Ellie was named by our daughter and it is entirely coincidental that she chose this name as she is far too young to have learned about ELE (extinction level events!).
Chale Bay Farm is very near to Whale Chine. Sadly Whale Chine is presently closed as the steps have become unsafe due to erosion, however if you do choose to access the beach from further down the coast (taking full account of tide times and heights) it is very well known for numerous ammonites including some really large ones. A dinner plate sized ammonite was found by guests of ours in 2012 and given to us as a present (pictured opposite), and we also have an ammonite in very good condition acquired via a local collector from Chale Beach below our fields on display in our guest dining room.
Carrying on just a little waydown the A3055 Military Road you past Atherfield point where a young fossil enthusiast Daisy Morris found Vectidraco Daisymorrisae, a new species of Pterosaur, in 2008.
Next you reach Dinosaur Farm (PO30 4PG) which is home to Dinosaur Expeditions CIC, a community interest company. Well worth a visit and a very affordable entry fee - and make sure you ask Ollie who runs it to talk you through the display cabinets. These include some of the earliest fossils ever found (bacteria), some very early trilobytes, and right though to many of the Cretacious fossils from the Isle of Wight. They also have some specially commissioned paleoart dioramas. Ollie also runs fossil hunting trips.
Just a few miles and less than 10 minutes drive further down the coast is Hanover Point between Brook Bay and Compton Bay. There is a gravel car park at Brook with sloping path to the beach and tarmac car park at Compton with steps to the beach. The best time for visiting these beaches is ahead of low tide.
Not only do you stand a nearly guaranteed chance of finding fossils but the beaches are mix of rocky ledges, shingle, and lots of sand making them ideal for sunbathing and kite flying and other beach activities. Compton Bay is nearly as well known for surfing as Newquay in Cornwall, and with the tide out you stand a chance of even seeing the dinosaur footprints out on one of the rocky ledges (it's best to book on one of the organised trips to see these).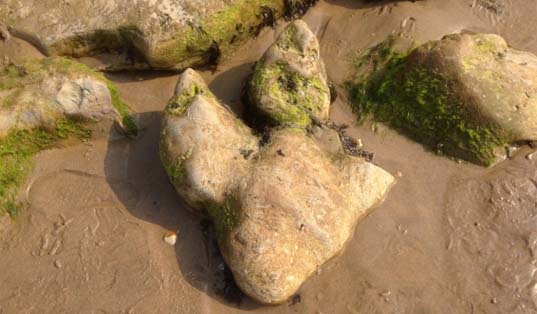 At Hanover Point huge dinosaur footprint casts regularly erode out of the cliff and onto the top of beach, and depending on recent weather and tides there are almost always some to be seen in various states of erosion. The casts are made where sediments filled a footprint made in softer material. The sediments fossilised whilst eventually the material the prints were made in eroded away.
Out in the rock pools at low tide it is often possible to find all kinds of fossils including lots of fossilised trees, as well as the occasional vertebrae and other interesting items.
Again to get the most out of a visit to Hanover Point we recommend an organised trip. There are several busiensses that do organised fossil walks including Dinosaur Expeditions and Wight Coast Fossils.
We recommend going on organised fossil trips. Remember to take care if you go fossil hunting yourself. Do not go too close to the base of cliffs especially if they have been subject to recent falls. Be aware of the tides. Not only is just before low tide the best time for fossil hunting but at some high tides the water comes right up to the foot of the cliffs, and after low tide there is a risk of being cut off on rocky ledges. It may be illegal to dig in the cliffs or remove large fossils as many of the fossil hunting areas mentioned here are designated Sites of Special Scientific Interest.