Isle of Wight - Dinosaur Island
2013 was hugely exciting with the Island being named UK's Dinosaur capital as part of a new Dinosaur Map of Britain, and also hosting the UK premiere of the new movie "Walking with Dinosaurs - 3D" as well as two new real-life dinosaur finds being announced.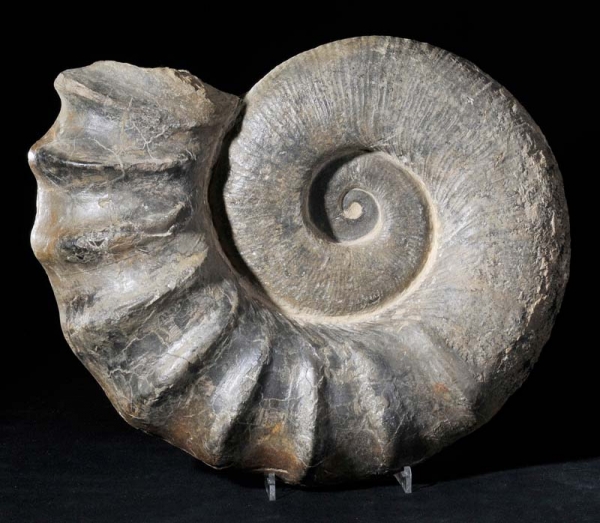 Martin Simpson, the Island's very own 'Fossil Man', has spent over 30 years collecting fossils from the Back of the Wight, including a large number of giant ammonites from Whale Chine in Chale Bay, a stone's throw from Chale Bay Farm. He leads fossil trips for tourists all year and has written several books aimed at the amateur collector and general public.
The Isle of Wight is world famous for its dinosaur remains, so much so that it has earned the nickname 'Dinosaur Island'. No fewer than 29 species are recorded from here to date, ranging in size from tiny meat eating creatures to the lumbering gigantic long necked plant eaters known as sauropods. Their bones, footprints and even droppings have been found in the soft clays and sandstones which are exposed along the southwest coast, known locally as the 'Back of the Wight', and from the cliffs at Yaverland near Sandown. However, it is the coastal stretch between Blackgang and Freshwater, part of which is called the Undercliff, which has produced the most impressive finds.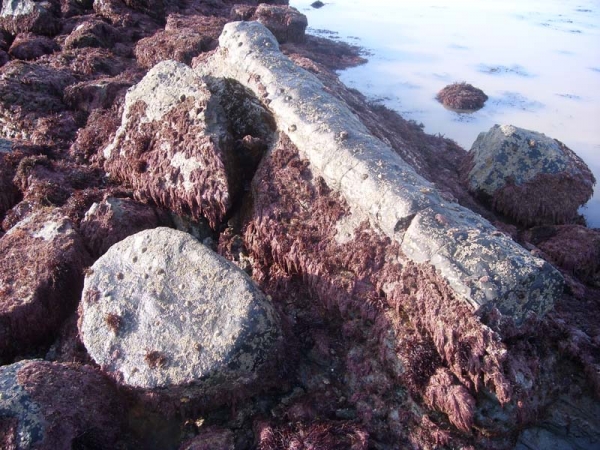 At Hanover Point in Brook Bay on low spring tides you can see the remains of an ancient fossil forest, the Pine Raft, which consists of a jumble of tree sections petrified into solid stone, evidence of a log jam in a prehistoric delta 125 million years old.
The most common Isle of Wight dinosaur is the plant eating Iguanodon, the second dinosaur ever to be named in 1825. This creature had a beak and pointed thumb-spikes, and grew up to 9m in length. It is not unusual to potter around on the beaches in Brook, Brighstone or Compton Bays and come across the odd chunk of fossilised bone of Iguanodon, sometimes even a vertebra (backbone) or tooth.
Whole skeletons are rare, but they continually erode from the cliffs every ten years or so. In the 1920's a complete skeleton of this dinosaur fell out of a landslip and was later named Iguanodon atherfieldensis after the locality where it was discovered. Other, rarer plant eating dinosaurs called Valdosaurus and Hypsilophodon have also been found here, the latter being known by over 30 examples which were found in one place near Atherfield in the nineteenth century. Hypsilophodon was a small, agile and fast running dinosaur only about 2m in length.
Polacanthus foxii is another plant eating dinosaur, this time an armoured tank-like creature up to 5m long, which is known only by three partial skeletons found in Brighstone and Compton Bays, the most recent of which was excavated in 1994. Most impressive of all IOW dinosaurs has to be the large carnivorous monster named Neovenator (new hunter), an excellent specimen of which was collected between 1978 and 1996. This is on display at Dinosaur Isle Museum.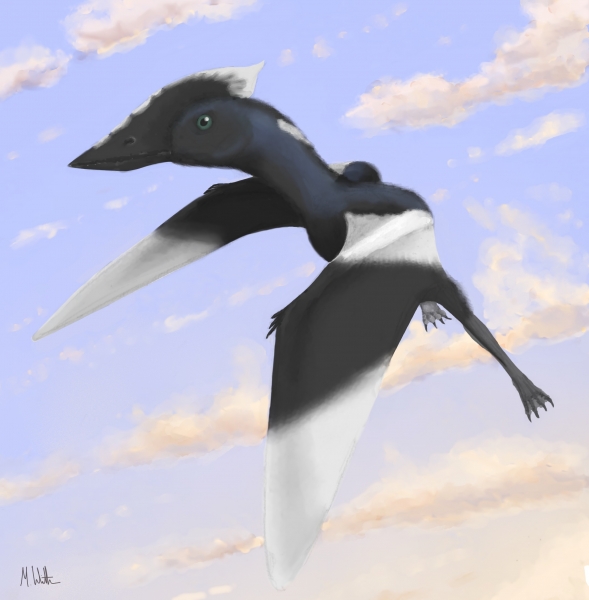 Dinosaurs, fish, sharks and other fossil reptiles including pterosaurs and turtles continue to be found on the Island. Only this month came the announcement of a brand new species of small pterosaur (flying reptile) which has been named Vectidraco daisymorrisae, in honour of the Isle of Wight schoolgirl who found the tiny bones in 2008.
Martin has written an amusing, illustrated, dramatised account for children which tells the real life story of the find called "Daisy and the Isle of Wight Dragon".
To find out more about dinosaur events and related things to do on the Island see our Dinosaur Trail page.
We hope you enjoy your stay on Dinosaur Island.