Isle of Wight - Dinofest 2014
This page is now obsolete but maintained in case of legacy web links. Home>>>
The Dinosaur Festival Continues
Dinofest was hugely successful in 2013 with the Island hosting the UK premiere of the movie "Walking with Dinosaurs - 3D" as well as two new real-lifedinosaur finds announced.
In 2014 the Isle of Wight is gearing up even more dinosaur events throughout the season and of course you can come fossil hunting all the year round using Chale Bay Farm as an ideal base.
For the many Dinofest events already listed visit the Official Isle of Wight Tourism Dinosaur Events page.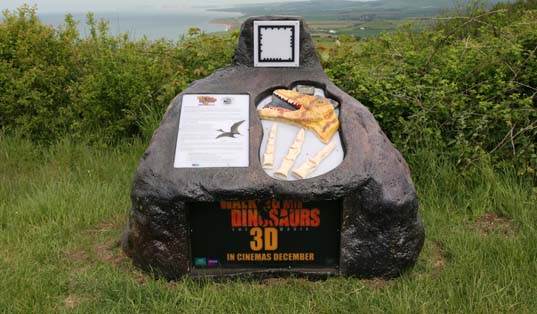 Last year we were treated to the arrival of a shower of dino-meteors which has fell on the Isle of Wight. This one is at Blackgang Chine viewpoint car park just up the road from Chale Bay Farm. The funny barcode outline at the top is designed to work in conjunction with the augmented reality app which has been launched. For more information about the app and the Isle of WIght Dinosaur Trail visit the Official Isle of Wight Tourism Dinosaur Dinosaur Trail page.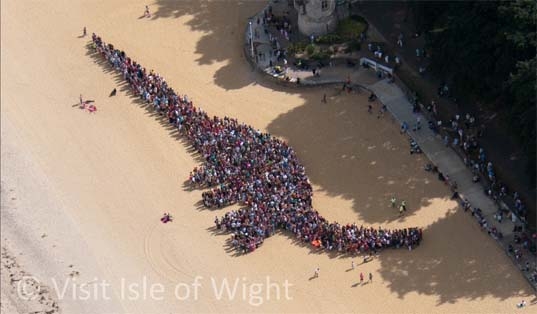 Many more events are promised in 2014 including new meteors and rumour has it a secret new area of Blackgang Chine has been discovered with some rather scary occupants. It is presently sealed off and called Restricted Area 5.
Also in 2013 thousands of people met on the beaches near Ryde to form a huge "human dinosaur". The plan is that event will be restaged in 2014 with the intention for it to be even bigger and better (image courtesy of Visit Isle of Wight).
We have put together our very own Dinosaur Trail page listing the many things you can do on the Isle of WIght with a dinosaur theme.
To read more about fossils on the isle of Wight see our Dinosaur Island page.
We hope you enjoy your stay on Dinosaur Island!